Regular price
$59.98 USD
Sale price
$29.99 USD
Unit price
per
Sale
Sold out
The Swaging Spin is for hard and soft copper tubing. Itcreates a precise deep swagewithout wobbling or crackingthat is easier to braze.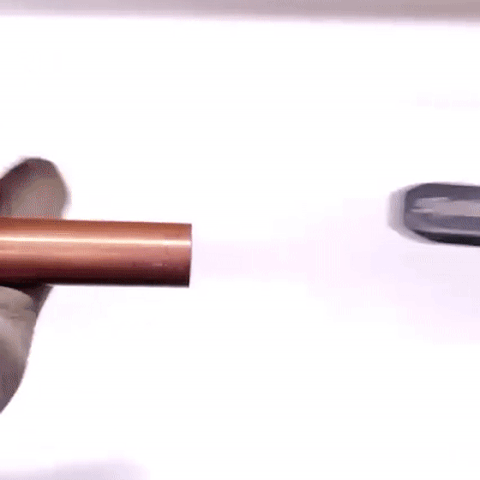 SPIN Swaging Tool Set containing 6 pieces in a set, with the following diameters:1/4, 3/8, 1/2, 5/8, 3/4 and 7/8(tube's outer diameter).Capable of Swaging Soft, and Hard, Copper, and Aluminumwhen coupled to a drill. Uses a system of heat by friction.
The swage stopper willprovide great swage depth for perfect fitting.The tools are designed to work along with drills and/ or screwdrivers, with a minimum of1,800 RPM and 500 watts for corded drills, or superior and 1,800RPM and 18V, or superior, for cordless drills. Using the tools along with less powerful equipment may result in a high decrease in performance.
FEATURES:
Heat by Friction-Preserves copper's malleability during the molding process, for a leak-tight fitting.

Fits into any Drill-Works efficiently along with the most common screwdrivers and drills*, check the minimum requirements.

10X faster-Flares and swages in 5 seconds: Up to 10X faster than conventional tools.

Avoid Cracks and Leaks-The high-temperature process will assure a perfect fitting, the metal doesn't crack or thin.

410a Compatible-Tube walls maintain the thickness to withstand the high pressure of refrigerants.

HVAC Ready-Designed for the most popular tubing diameters in HVAC.
SPECIFICATIONS:
Material:Steel

Mm: £¨1/4 3/8 1/2 8/5 3/4£©
PACKAGE INCLUDES:
1 set x 5 Swaging Tool Drill Bit Set
Share
View full details
Cool Stuff, Cool Gadgets, Cool Gifts & Things
From home good products to beauty and health gear, to clothing and electronics, you can find a wide variety of goodies that will inspire you to live your best life. And if you don't want to leave out your furry friends, we even have a section of innovative products devoted just to them too.